Custom Solutions for Building Automation, Machine Automation and Data Management
Technical expertise is tailored to a customer's specific, project-driven needs with special emphasis on excellent customer service and support. With a background that includes engineering management, operations, business and project management as well as being an owner/general manager, Paul's expertise is providing solutions for a wide-array of industries.

Recent experience includes developing and documenting PLC and PC-based code using Beckhoff TwinCAT, developing touch screen lighting/HVAC control systems, developing embedded control systems for small aircraft (Trim and Autopilot systems), programming multi-user database applications, and design, programming, installation and customer support for building automation systems. Project management is a staple of Paul's background.

Electrical and general construction services for commercial and residential clients has included ADA compliance, site surveys, CAD and As-Built drawings. (Paul currently holds C-10 and B licenses.)

PC Control Technology
Control Panels with Multi-touch Technology
Electrical Engineering
Electronic Software Design
Human Machine Interface
Project Management
AutoCAD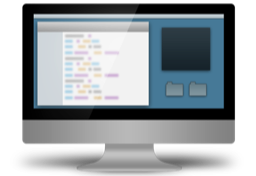 Thank you for stopping by while our site. The contact form is live and functional if you'd like to reach Paul.
An independent, creative and self-motivated professional with more than 25 years of hands-on experience in building automation, machine automation and data management, Paul's skill set in developing electrical, mechanical and software solutions can help with project-specific needs.
Building Controls
(for lighting, HVAC and electrical systems)

Design and Programming in:
H.I. Solutions
American Auto-Matrix
Carrier

Installation and customer support
Programming for multi-user database applications using:

MS Access
Paradox
dBase III
Foxbase
Development in:
Beckhoff TwinCAT 3
Indusoft Web Studio
MS Visual Studio
Mitsubishi GX Developer
GX Designer

3D machine drawings
Electrical schematics
Wiring diagrams
Paul Stowitts
To reach Paul, please use the contact page.